If you haven't seen a Scanpan CTX cookware set review before, prepare to be amazed. Scanpan cookware is becoming very popular and rightfully so. Scanpan CTX cookware is a 5-ply brushed stainless steel exterior, aluminum layers on the inside and the Scanpan titanium/ceramic GreenTek PFOA-free cooking surface. It has a clean contemporary look. Glass lids have stainless steel edges and are vented. Scanpan CTX cookware is identical to the Scanpan CSX cookware line except that all CTX products have the nonstick interior instead of mostly stainless steel. Scanpan CTX cookware is induction capable. Scanpan is made in Denmark.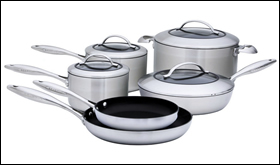 New cookware has a way of bringing out hidden cooking talents in people!
Perhaps you have some old scratched nonstick cookware and concerned over health reasons. Maybe they are slightly warped and don't lay flat. Perhaps you have mismatched cookware or some that is chipped or peeling. Maybe yours sticks too much, doesn't perform the way you would like it to, and perhaps you want a cookware set that is healthy.
If you are like me, I have some cookware that has been passed down from my parents and other family members. I have a little bit of everything. I know I get tired of some pieces that are warped and don't lay flat. It would be nice to have cookware with comfortable handles that stay cool, heats evenly and all the way up the sides of the cookware, and maybe even uses less heat. And it would be great if it could last for many years to come!
Nonstick Cookware Sets
Virtually every cookware manufacturer makes nonstick cookware. Unfortunately most are not very durable and cannot be used on higher heats. Experienced cooks know that certain cooking methods, like saute, require a higher heat level. Traditional nonstick surfaces even gave off harmful fumes that kills birds and gives humans a condition known as polymer fume fever. Fortunately PFOA-free nonstick surfaces are becoming more popular and the dangers of harmful fumes should disappear. In searching for the best nonstick cookware set in terms of quality I looked at and cooked with a lot of cookware. I wanted a cookware that was durable, attractive, lays perfectly flat, could take high heat, had advanced features and also could be put into the dishwasher. Even though that was a tall order, I was successful in finding a brand that makes just what I was looking for.  
Scanpan CTX Cookware Set Review
The Scanpan CTX Cookware Set Wins for Best Quality
I really like Scanpan cookware. Having used their nonstick surface for several years now, I know it is durable and the nonstick surface lasts. I am please that the Scanpan CTX cookware set with a brushed stainless steel exterior is just as solid and durable as I expect from Scanpan. Cooks of all caliber will love Scanpan CTX cookware because it is easy to cook with and very easy to clean. The nonstick surface can take high heat, but you'll be surprised you won't need to jack up the heat very high because the layers of aluminum in the core of the cookware heats quickly and distributes that heat very well. This is an outright winner for many reasons.
REVIEW: What I Liked
The PFOA-free nonstick surface is top quality and long lasting
Vented lids is just one of the advanced features I liked
The contemporary styling is really slick. Rounded corners make it easy to handle and look at.
The glass in the lid makes it easy to see what's cooking
It is very solid, and even though it is not very heavy, you know you are holding on to solid cookware
Dishwasher safe
The handles are an excellent size and shape. They stay cool.
REVIEW: What I Didn't Like
No 12″ skillet in this cookware set. If you have to cook a lot of food a 12″ fry pan is necessary.
Sauce pans are a similar size. There should have been a bigger variety in sizes
YCH Cookware Dashboard
| Healthy? | Dishwasher Safe? | Induction Ready? | Price? |
| --- | --- | --- | --- |
| | | | |
| Outside Material? | Inside Material? | Oven Safe? | Clad? |
| | | | |
|   | Features | How It Benefits You! |
| --- | --- | --- |
| | Stainless Steel Flat Bottom | Great for all FLAT top stoves |
| | Aluminum core | Heats quickly and distributes heat well |
| | Scanpan PFOA-free Nonstick | Durable, long lasting and healthy |
| | Brushed stainless steel exterior | Attractive and doesn't show spots like regular stainless steel |
| | Cast stainless steel handles | Easy to hold. Stays cool. |
| | Induction ready | Future proof for induction stove tops |
| | Oven safe to 500 degrees | Expands the cooking techniques you can use |
| | Dishwasher safe | Easy to clean. Rare for nonstick cookware |
| | Lifetime Limited Warranty | It's a risk free purchase |
 [amzn_product_post template='YCHsingle']